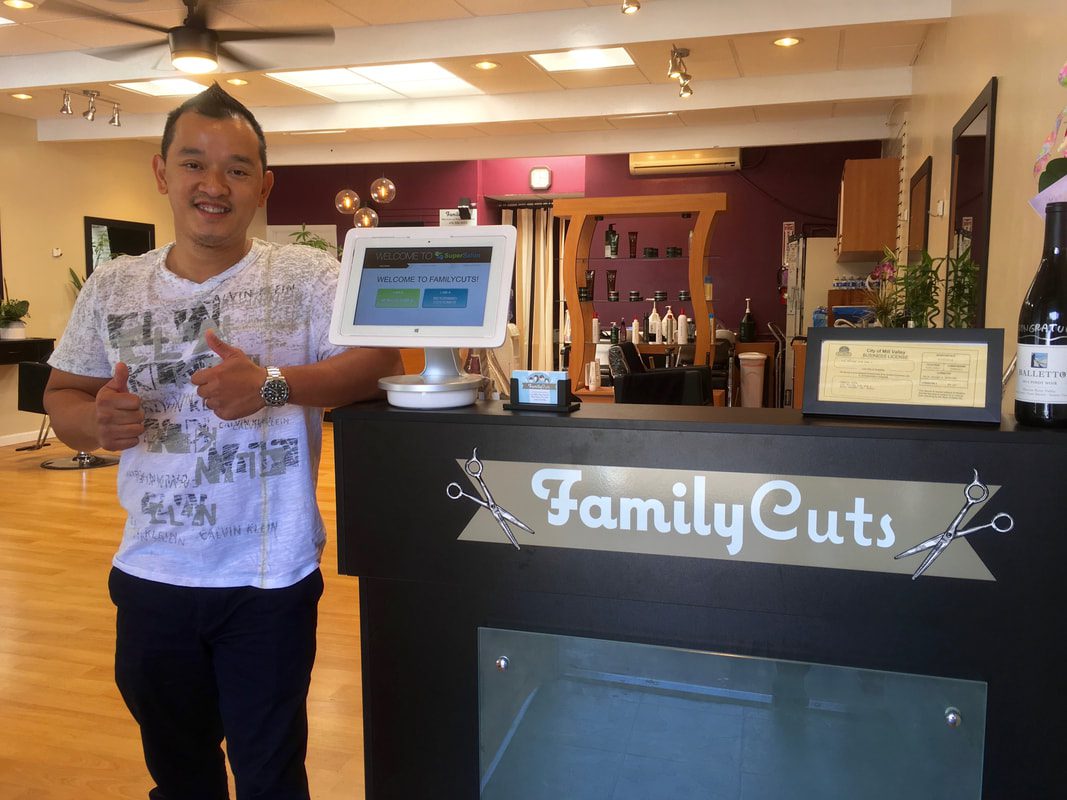 Family Cuts owner Chau Dang in his space at 401 Miller Ave., Suite C in the Egger Plaza center that includes Sol Food and The Image Flow.
Everyone has their own criteria for a hair salon, but there are two must-have ingredients: A good cut at a reasonable price, and great conversation.
While Family Cuts' performance on the first of those two is evident from the array of five-star reviews on Yelp, the second greets you at the door in the form of Chau Dang, the salon's extremely personable owner. Dang exudes the kind of energy that transforms a haircut into social hour – equal parts him getting to know you and you hearing about all of the experiences he's packed into his life.
"I just love being a part of this community," Dang says of four months since he and his wife Tuyen Bui opened Family Cuts at 401 Miller Ave., Suite C in the Egger Plaza center that includes Sol Food and The Image Flow. "We're thrilled to be here, and the response from the community has been so great that I have to keep hiring stylists to keep up."
Dang, whose family lives in Larkspur, spent the prior four years at Supercuts, first as a stylist in Terra Linda and then as the manager of their location in Town Center Corte Madera. Dang loved the experience – "they were really great to me," he says – but he longed to create something that reflected his personal touch.
"I felt that it lacked the personal touch," he says. "It was too much of a numbers game at times, and while obviously you have to make money to pay the bills and stay in business, it lacked the purpose and community involvement that I really wanted. If it was just about the money, I could just go back to being an engineer."
That's right: Dang's path to running his own salon in Mill Valley has been circuitous, to say the least. Dang's grandfather served in the South Vietnamese Army alongside U.S. troops in the Vietnam War, and he brought his family to the U.S. via amnesty in 1989.
They settled in San Jose. In 1998, Dang enlisted in the U.S. Marine Corps Reserves, and he graduated from UC-Santa Cruz with a degree in computer science in 2001. He took engineering jobs in the years that followed but realized that he didn't have the passion for it.
What he did have the passion for post 9/11 was serving his country, so he re-enlisted as an active duty Marine, went off to Camp Pendleton and subsequently multiple tours in Afghanistan.
Dang returned from active duty in 2008 and began serving as the inventory manager in the family business, Left Coast Wholesale, a Santa Rosa garden supply distributor owned by his sister Khanhvi Dang.
When his wife wanted to open a nail salon in 2011, Dang left Left Coast and they both enrolled in salon training in Oakland, garnering their licenses simultaneously. He got the job at SuperCuts after certification and has been cutting hair ever since.
As his journey indicates, Dang says he's all about family, community and service.
"For me, this is all about being in the community and interacting your customers, neighbors, family and friends," Dang says. "I meet great people every day. I love this country and all of the opportunities it has provided me and my family, and I love giving back."
The 411: Family Cuts is at 401 Miller Ave., Suite C in the Egger Plaza. MORE INFO.
---