A variety of lodging options
From boutique hotels to camping, Enjoy your stay at these members of the Mill Valley Chamber of Commerce & Visitor Center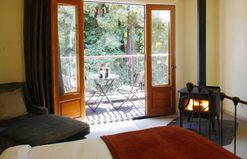 The Mill Valley Inn is an intimate hotel tucked in a redwood grove at the foot of Mt. Tamalpais. Steps away from galleries, restaurants, boutiques and theaters, the inn combines the sophistication of a small European hotel with the cozy charm of downtown Mill Valley. 
Acqua Hotel, a boutique hotel on Richardson's Bay has 49 guestrooms, including 25 Junior Suites featuring large entry parlors, soaking tubs and private balconies which provide expansive views of Mt. Tamalpais. 
Pine Crest Manor
203 Morningsun Ave.
415.388.2034
>>The following listings are for your convenience only, please note they are not members of the Mill Valley Chamber of Commerce & Visitor Center <<
Muir Woods Hotel & Lodge
155 Shoreline Hwy.
415.332-1732
Tamalpais Motel
​680 Redwood Hwy.
Prefer a more rustic experience? Camping options near Mill Valley range from sites beneath towering redwoods at Pantoll Campground on Mt Tam to rustic cabins perched above the ocean at Steep Ravine. Wake up to Mount Tam's redwood groves, oak woodlands and spectacular view from its 2,571-foot peak. On a clear day, you can see the Farallon Islands 25 miles out to sea, the Marin hills, San Francisco and the bay and Mount Diablo. On rare occasions, you can also see the Sierra Nevada's snow-covered mountains 150 miles away. Please visit Mount Tamalpais State Park or call for information on campsites.
.
Alice Eastwood Group Camp
415.388.2070
Frank Valley Group Horse Camp
415.388.2070
Haypress Campsite
415.331.1540
Pantoll Campground
415.388.2070
Steep Ravine Campground/Cabins
415.388.2070