When Linsly Donnelly confronted one of the most vexing parenting challenges of the modern age – managing the content her kids consume during screen time – she did what any
Bain & Company
alum, ecommerce innovator, tech industry vet, author and entrepreneur would do: She created a company to address it.
SmartFeed founder Linsly Donnelly and her family. Courtesy image.
​Donnelly, who moved with her husband and three kids (ages 6, 7 and 10) from Orange County to Mill Valley four years ago and is an active parent leader in the
Old Mill Elementary School PTA
, launched the
SmartFeed
application publicly in July 2016 after building it for the past two years.
"I love tech – but I hated what was coming in on the screen," Donnelly says of SmartFeed's inception. "It's not so much that I want to get my kids off the screen. It's what's on the screen is often so terrible. There was just so much media that was inane or violent or gender stereotyping or all of the above."
Smartfeed is an application fueled by a database of more than 30,000 titles of apps, movies, games and books. Parents can filter the database based on things like age, gender, interests and character traits, or they can create a profile for their kids and then accept SmartFeed's recommendations based on that profile.
Now seven months in, Donnelly says she's looking to grow SmartFeed's user base with two primary goals in mind: continue to fine tune the app – "the users have already taught me a lot," she says – and to get some additional funding to pay for things like expanding SmartFeed's team of experts who help strengthen the filters with their knowledge area specific mediums and subjects.
Now, Donnelly's primarily focused on building audience and getting feedback about the product. She's been doing so nationally via bloggers, incentivizing people to try it out. Now she wants to draw on the population of super-engaged parents in her hometown, and she's looking to connect with kid-centric businesses and organizations to do so.
On Friday, Feb. 3, (5-7pm), Donnelly is hosting a SmartFeed event – dubbed "Happy Hour & Screentime Help," at Poekie Nook, Sophia van der Harst's bustling Tam Junction hub where kids learn how to sew by making "Poekie" stuffed animals. Donnnelly promises "three tips to achieving 'good' screen time for your kids," as well as art projects.
A graduate of Washington and Lee University who got her MBA at the University of Texas' Red McCombs School of Business, Donnelly spent four years in the Los Angeles office of consulting giant Bain and Company before launching her first startup, IdeaForest.com, an online arts and crafts business, in 1999. She eventually sold the business to Joann Fabric and Craft Stores, and continued on to build and run Joann's ecommerce division.
In 2004, Donnelly, opened her own Yoga Loft studio in Manhattan Beach, and over the course of the nearly seven years that she owned it, she wrote her first book, The Happy Go Local: The Smart Mom's Guide to Living The Good (and Sustainable) Life (Adams Media), in which she shared "countless ideas from her own experience in living locally to help you raise a happy and sustainable family."
Donnelly and her family moved to the Bay Area in 2012, and she became the chief marketing officer for Wine.com. After nearly two years there, she stepped back from the corporate world for a while, only to become engrossed by the possibility that SmartFeed could be the answer to her screen time issues, and those of countless parents in Mill Valley and beyond.
She initially drew on her experience at Joann, where her team allowed customers to create a "profile of what they liked and we would just feed them what they liked," Donnelly says. SmartFeed lets parents do the same, but they can also filter the database on their own and make playlists within the different mediums.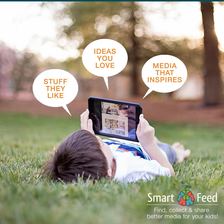 ​First up was a "ginormous" software build, which a successful
Kickstarter campaign
partially funded by raising more than $75,000 on the promise of a "Pandora meets Netflix with Facebook" app for parents.
Donnelly particularly likes the ability to create a playlist that can be shared with a babysitter or the parent of another child hosting a sleepover. SmartFeed runs on iOS and at TheSmartFeed.com.
Donnelly says she looks to kids' media experts like leader Common Sense Media, the 14-year-old Bay Area nonprofit that "provides education and advocacy to families to promote safe technology and media for children" by serving up reviews of children's media, as well as Tech with Kids, Teachers with Apps and other children's media expert to inform parents' media choices. She hopes to connect parents to excellent review sources – as a one-stop shop for family media.
Donnelly says she's going the for-profit route because "that's how you change the landscape. There's no reason for Disney to make different stories until parents are saying so with their dollars."
For now, SmartFeed is free, though Donnelly hopes to build the app and its user base to the point of being able to charge a subscription. SmartFeed currently generates revenue via affiliate marketing fees from Amazon and Apple.
​
"I'm really concerned about our culture and what we're feeding our kids," Donnelly says. "It bums me out that my eight year old already knew the plot of The Hunger Games. I found myself saying no too often without having any good ideas to suggest as an alternative. SmartFeed changes that."
The 411: Smartfeed is hosting a "Happy Hour & Screentime Help" event on Friday, Feb. 3, (5-7pm) at Poekie Nook, 247 Shoreline Hwy. in Tam Junction. Free. RSVP here.
---