Seven months into her role as head of Google's efforts to bring its Glass technology to the consumer market, Bronx native talks about the challenge in front of her, what drew her to the 94941 – and why she's found her home here.
From CEOs and tech moguls to celebrity chefs and legendary musicians, Mill Valley is home to plethora of people whose work transcends the town in which they rest their head at night.
Few of them have a more interesting job than Ivy Ross.
Google, the tech colossus whose quest for leading-edge innovation runs the gamut from self-driving cars and adaptive devices like the Lifeware spoon to its efforts to extend the human lifespan, tapped Ross in June to run Google Glass, the game-changing, controversy-fueling,

hands-free phone and Web device in the form of eyewear.
The home of Ivy Ross and Arthur Drooker in Mill Valley – see oak tree, background, encircled by deck. Photo courtesy Arthur Drooker.
In doing so, Google found a person with a unique mix of earthy, artistic energy – someone who loved the oak tree that so dominated the property she bought on Helens Lane in Mill Valley in 2006 that she built the house around it – and a wealth of marketing, design and retail experience that includes the likes of Gap, Disney, Art.com and running an innovation lab at Mattel. She even designed eyewear at Bausch and Lomb for a stretch.
The executive Google sought had to hone the beta Glass product, which was made available through its beta Explorer program for $1,500 earlier this year, into something appealing to a mass consumer audience. That person also needed to be able to navigate a bevy of privacy concerns from those who don't like the idea of having photos or video taken of them via a pair of glasses.
After listening to Google Glass executives and company co-founder Sergey Brin list all of the attributes that would be required of the person who had both the temperament and experience to handle the job, Astro Teller, the head of Google X, the company's "moonshot factory for building magical, audacious ideas through science and technology," went out and bought a stuffed unicorn, according to the USA Today. He later gave the unicorn to the 58-year-old Ross.
"This is like using all of my skills in one job," Ross says. "At my core, I'm a builder of things, of ideas, of companies and of how groups of people can work together. That's the thread that holds my career together."
The idea of working at Google sold Ross, who says she's historically been the disruptive type at more traditional companies, urging them to think differently and innovate.
"Now there are so many disruptive companies, I wanted to be among like-minded people in a company I admire – this is a great fit," Ross says.
The leap from companies like Mattel, Coach and Gap to Google was significant, both culturally and geographically. The commute from Mill Valley to Mountain View can take as long as two hours each way. But relocating for the new gig wasn't an option, says Ross, who moved from New York City to Mill Valley in 2006. Having lived in different parts of the country, including Southern California, Ross says Mill Valley spoke to her in ways no other place ever had.
"I realized very quickly that I am a Northern California person – I can feel that in my soul," she says. "This is home – I'm not going to move again."
"Mill Valley has this creative energy – it still feels like a European town in this very peaceful, calming, beautiful place," she adds. "I feel like I have the best of all worlds here. I've never been anywhere before where I can be climbing a mountain, at a great restaurant in the city or on the beach, all in just a few minutes."
Ross admits she's facing a big challenge in bringing Google Glass to a mass consumer market, particular given the mindset shift required with wearable technology, and the privacy concerns that come with people being able to take photos and video from their eyewear.
"But that's part of the appeal," she says of the challenge. "It's an audacious task. One has to work hard to make something this revolutionary happen. This is breaking barriers."
And while Ross acknowledges the controversy that has arisen when Google Glass early adopters interact with people uncomfortable with the eyewear – an incident in a bar in San Francisco earlier this year drew national attention – she's determined to not let those concerns drive the process.
"We are all heads down, trying to make the best product we can by solving the right problems," she says, noting that the arrival of Kodak cameras in the 1800s was met with people hiding behind doors, hoping to avoid being photographed. "When you are doing something that is revolutionary, you can't get sucked into what you hear other than absolutely listening to the consumer. As the famous saying from Henry Ford goes, '
If I had asked people what they wanted, they would have said faster horses.'"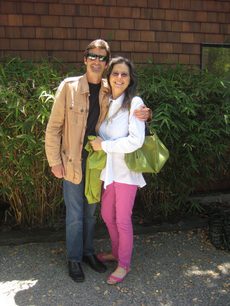 Ivy Ross and Arthur Drooker outside their home in Mill Valley. Photo courtesy Arthur Drooker.
When Ross needs a respite from bringing Google Glass to the world, she comes home to Mill Valley and her husband of four years Arthur Drooker, whom she's known since high school and reconnected with while she was living in NYC.
The couple loves to take hikes on Mt. Tam, particularly to places like O'Rourke's Bench, have dinner with friends in their neighborhood and walk into downtown and back for visits to favorite restaurants like Molina.
Drooker, an acclaimed photographer whose "Lost Worlds" exhibit was shown at Alain Pinel's office downtown, has a trio of books out and another on the way.
"We're just a couple of kids from the Bronx, now living in Mill Valley," Ross says with a laugh.
---